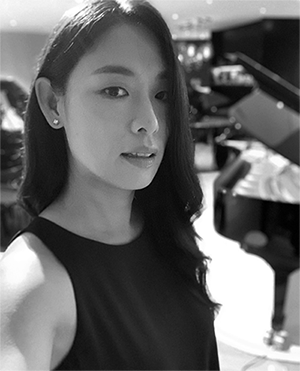 Dr Lee Pei Ming
was previously an Assistant Professor in Yong Siew Toh Conservatory of Music at the National University of Singapore. She taught at the university from 2005 to 2018. Lee graduated with a Doctorate in Musical Arts (DMA) in Piano Performance and Pedagogy at the University of Michigan, Ann Arbor in 2005 and achieved her Licentiate and Fellowship (F.T.C.L.) from Trinity College in London with honours prior to her degrees.
Dr Lee's research paper "Infant Musicality in the New Generation" was published at the INTED conference in Spain. She also presented her papers at the prestigious World Piano Pedagogy Conference at Texas, USA and in Malaysia. Lee is also the founder of the music programme Staccato! Music, which specialises in early childhood music and movement programme since 2009. The programme is based on her research on developing accurate pitching abilities in young children. Due to the success of the music programme, Staccato! Pte Ltd was awarded Promising SME 500 in 2013. The early childhood programme has been adopted by several well-known kindergartens in Singapore, like Carpe Diem, Little Skool-House, BibiNogs, M.Y World by YMCA over the years. In 2018, Staccato! Pte Ltd ventured into Prodigy Music in Shanghai, and expanded a new branch at Orchard Tanglin in 2021.
In recent years, Dr Lee has several students who had achieved distinction in their ABRSM or Trinity piano examinations. Ms Ong Weng Yee headed to Chetham's School of Music in Manchester, to pursue a music education, after achieving her Grade 8 with distinction when she was eight years old. Mr Goh Kai Cheng was awarded the grand-final winner in the 5th Annual Steinway Piano Competition, to represent Singapore in the Regional Round in 2020.
In addition to her passion for teaching, Dr Lee had performed in the 13th ASEAN Summit Gala Dinner in 2007, and in the 2006 Singapore International Piano Festival at the Victoria Concert Hall. In 2006, Lee premiered Eine Kleine Mitternachmusik by American composer George Crumb in Michigan and Singapore. Other places where Lee had performed include Czech Republic and Italy.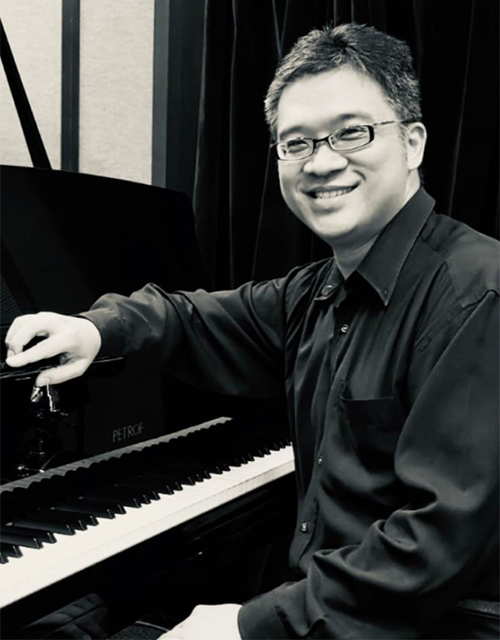 Chin Ying Soong's
journey with piano started at the age of 9 in Kuala Lumpur. In his early years, he participated and won several piano competitions, such as Yamaha Malaysia Grand Prix winner 1990, Penang Mozart Competition finalist 1991, and being active as piano accompanist for vocal and competition in his 20s. He attained his Licentiate Trinity College of London (LTCL) at the age of 20 and Fellowship Trinity College of Music (FTCL) two years later. In 1994, he studied a two years performance course at Birmingham Conservatoire UK, and later attained his Licentiate Royal College of Music (LRSM) with distinction in 2002.
A teacher to many young and aspiring musicians, Ying Soong has over 25 years of teaching experience, mostly in tertiary institutions, music college and university in Malaysia and Singapore. His students range from private piano students, undergraduate, to music teachers completing their diploma certifications.
He has been lecturing at University Malaya, Malaya Institute of Art, Segi College (Malaysia), travelling both KL and Singapore before fully settled in Singapore in 2016.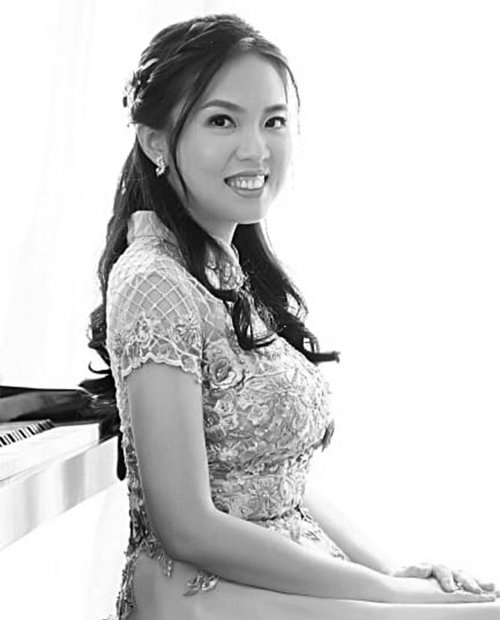 Jessica Budiman
began her musical education at the age of 7. She has taken part in several events such as international graded exams, concerts and competitions. Often, she would receive prizes for her outstanding performances. Her musical passion grew and she decided to pursue Diploma in Music Performance at Nanyang Academy of Fine Arts and Bachelor in Music Performance at Royal College of Music.
Upon graduating with upper second class in Bachelor in Music program from Royal College of Music, she pursued her career as a full-time teacher.
Jessica is known as a dedicated and responsible teacher in nurturing her students. She has nine years of experience in teaching students from tender age of six months until adulthood.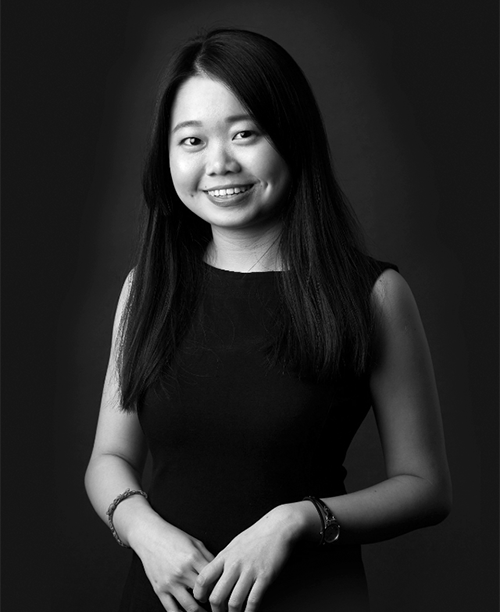 Lim Jing Xian
is a classically-trained pianist, music educator and accompanist. She has graduated from LASALLE College of the Arts with a Bachelor of Arts (Honours) in Classical Piano Performance.
She has been performing actively in the past few years in various concert venues such as the Victoria Concert Hall, Esplanade Recital Studio and Singapore Airline Theatre. She has performed works for solo piano, piano duet as well as being an accompanist for vocalists, ballet dancers and other instrumentalists. Her most recent competition include the second runner-up in the 1st WPTA Finland International Piano Competition.
Jing Xian has been teaching piano for the past 5 years as she hopes to nurture and cultivate the love for music in her students. She teaches leisure to graded exams for all ages and adjusts teaching style according to students' need. Jing Xian often provides piano accompaniment for students' lessons or examinations.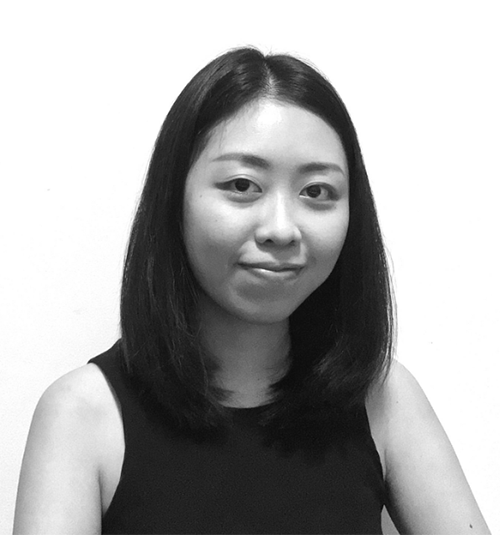 Wen Yi Lam
is a teacher with endless enthusiasm and passion for music, which drives her to pursue more knowledge about Classical music. She aspires to influence the next generation of classical musicians under her care.
During her study for Foundation Degree in Music Performance (Fdmus) at Singapore Raffles Music College (SRMC), she was exposed to various ensembles – Chamber, Pop, and Piano ensemble and gains proficient collaboration experience. She obtained her Practical Piano Grade 8 (ABRSM) in 2018 and Associate Diploma of the London College of Music (ALCM) in Performance in 2019.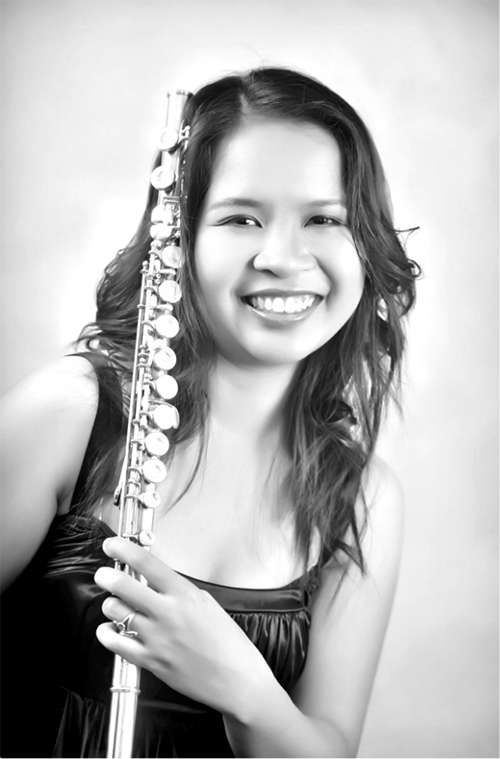 Mariedad Eunice Esguerra Sanchez
studied as a college and band scholar at University of the Philippines Diliman (the premiere state university in the Philippines. She earned her Bachelor's degree in Music and Diploma in Creative and Performing Musical Arts, and learned different instruments which included bassoon, saxophone, flute, clarinet and piano.
Marie was a member and a performer of UP Symphonic Band, UP Symphony Orchestra, and Metro Manila Concert Orchestra. She was a finalist at the National Music Competitions for Young Artists (NAMCYA) Woodwind category and participated in Southeast Asian Youth Orchestra and Wind Ensemble (SAYOWE) in 2008 held in Thailand.
After graduation, she worked as a private music teacher, a college instructor in a local university, and performer in the Philippines. Some years later, she moved to Singapore and handled individual and group music classes.
Teaching did not stop Marie from learning. Through years of training under different teachers on early childhood curriculum, she went her way to teach toddlers as young as 1.5 years old.
Marie took Carl Orff-schulwerk Levels Certificates to enhance her music knowledge and gain better understanding on Orff approach. Her dream of becoming a musician has finally come true and she believes that it is now the perfect time to give back and help the students fulfill their dreams of being able to play musical instruments — beautifully and passionately.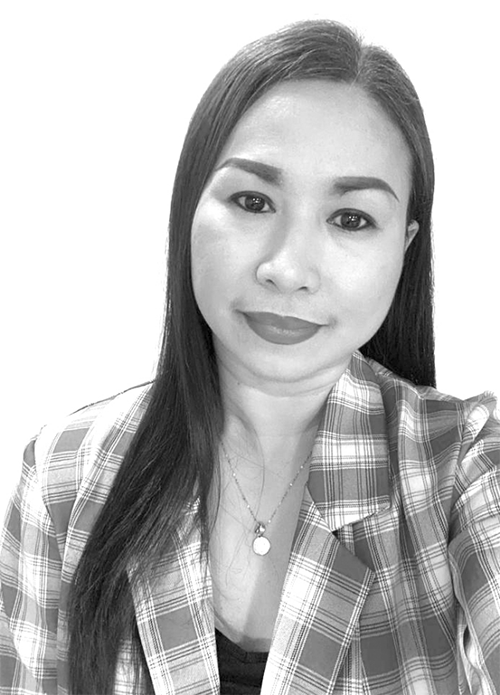 Cecile Salcedo
is a vibrant, experienced, and creative music educator with proven ability to teach early childhood and instrumental music to students using different music teaching methodologies such as Orff, Kodaly, Gordon, and Dalcroze, as well as the latest music and movement approaches by Feierabend and piano teaching techniques by Faber.
A graduate of Bachelor of Music, Major in Music Education and Piano Performance at The Philippine Women's University, Conservatory of Music, Manila, Philippines.
A versatile music educator holding several professional roles such as early childhood music and movement teacher, instrumental ensemble trainer, choir accompanist and piano instructor.
Cecile, with 18 years of well-rounded music teaching experience using the holistic approach of Orff Schulwerk at The Philippine Montessori School, became part of a pool of dedicated and passionate music teachers who taught, prepared, and accompanied three different batches of highly-trained children to perform in a series of concerts with the Children's Orchestra Society in Lincoln Center, New York City, USA.
Currently, she is a full-time music teacher and curriculum developer at Staccato! Music School.
"As a music educator, I believe in the great role of music education in the development of minds and total being of the children.
I think music classes should be a fun and welcoming environment where students can freely express themselves through music and naturally develop important values such as discipline, focus, and sharing, among others."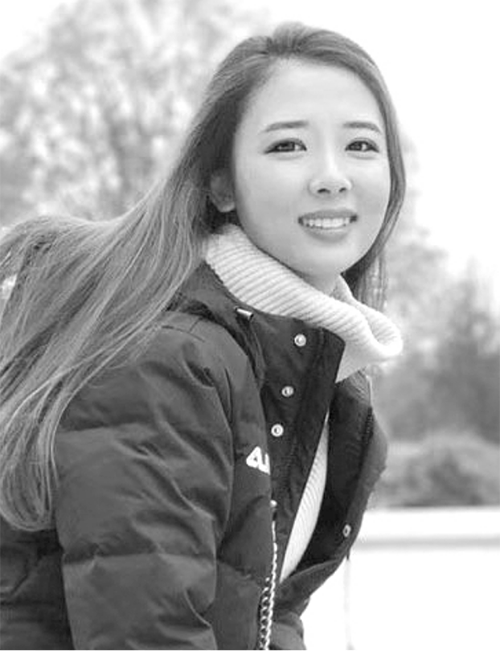 Gerene Chen
started learning piano at the age of six, and she graduated from Wuhan Conservatory of Music for her undergraduate studies, majoring in music education.
Gerene went on to pursue a Master of Piano Performance at the University of York in the United Kingdom and graduated in 2017.
She had many years of teaching and performing experiences while pursuing her studies and discovered her passion in teaching.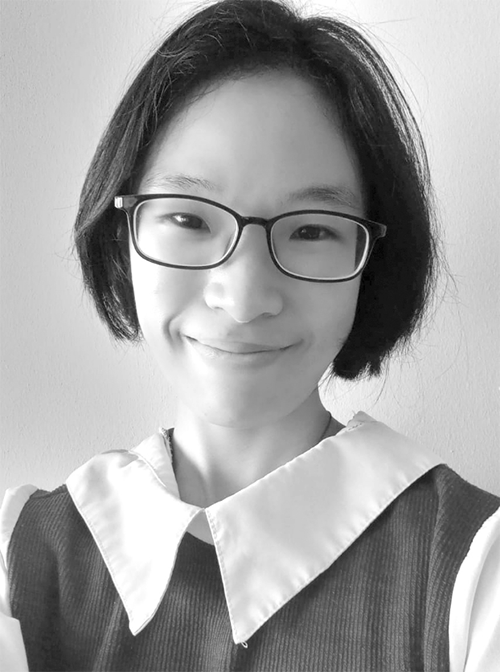 Sarah Leung En-hui
is an avid musician and a passionate music teacher. A firm advocate in how music is a truly universal language that should be made accessible to all, she had worked as a music teacher and therapist in the Rainbow Centre for Special Education, where she used music as an effective teaching tool for students with various disabilities including autism spectrum disorder and global developmental delay.
She had served on the faculty of Ossia Music School, a division of the Aureus Group, and as a piano and music exploration (early childhood) teacher. She was always a big proponent of students being given ample opportunities to perform and showcase their talents on their respective musical journeys.
Sarah continues to lead an extremely active musical life, as a section violinist in the inclusive community orchestra, the Purple Symphony.
A current student of the renowned Bulgarian violinist, Teodor Izmirev, and of Japanese violinist, Masako Suzuki White, Sarah believes that everyone's musical journey is a perpetual work in progress and there is always more to learn and discover from the incredibly vast and vibrant world of music.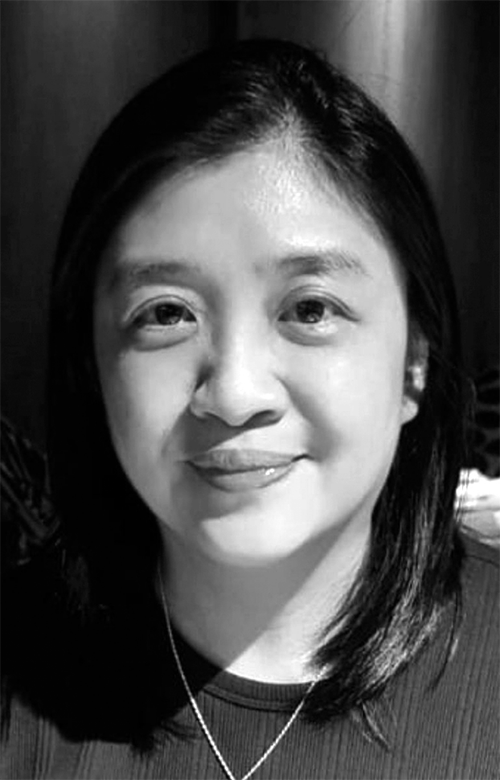 Serene Tan Swee Ming
started her musical journey at a young age.
She achieved her ABRSM Grade 8 and began her career teaching in Cristofori Music School. She subsequently taught at Lowrey Music School for a few years. Thereafter, she continued teaching privately.
She believes that learning to play a musical instrument should be part of everyone's life as it helps one to focus and relax.
She is currently a part-time piano teacher with Staccato! Music School and hopes to, besides imparting her skills and knowledge, instil musical appreciation in young children and adults.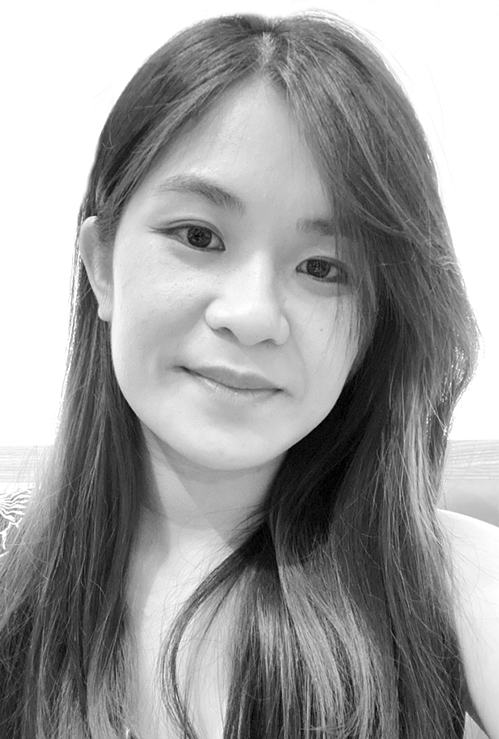 Tan Yong Qing
started her music journey at the age of six. With the passion towards music, she chose to pursue her Bachelor Degree in Classical Music at Institute of Music, UCSI University.
Apart from solo piano playing, Yong Qing holds her interest to play a role as a collaborative pianist for ensemble music as well as vocal accompanist. In 2015, she performed as a collaborative pianist in UCSI's Chamber Music Ensemble Concert for high achievers.
Active as a chorister, Yong Qing was the former member of UCSI University Women's Choir. She participated in several choir competitions, awarded as second runner-up in the National Youth Choir Competition in 2013 and attained Silver Grade in the Orientale Concentus VII International Choral Festival in 2014.
As a dedicated music educator, Yong Qing strives to inculcate a sense of love and appreciation in music in every student.