At

STACCATO!

, we provide an extensive and comprehensive curriculum that meet the progressive musical development of our students, teachers and parents.


Our Programs

Under Staccato!'s Music Intelligence through Nurturing and Development (MIND) curriculum, music classes are designed for children, as young as 6 months to 6 years old, in a fun group setting approach with their parents or caregivers. Staccato! adopted a theme-based approach that helps children and adults to relate different music pieces with various interests or topics. This approach brings the relevance of classical music to our daily lives and cultivates music appreciation.Each semester of the early childhood music and movement classes is designed to develop the motor skills, aural and pitching abilities of the children. They will learn different note values, tempi, articulations and dynamics through play and instrument exploration.

The music activities give parents and children an opportunity to become more familiar with various popular classics, learn different musical concepts, as well as enhance bonding between parent and child. There are different semesters namely Rhythms and Rhymes I & II, Jungle Safari, Dixieland and Tales, Animal Carnival, Dancing with Nature, Instruments of the Orchestra, Genre of Music and Carl Orff Ensemble. Musical concepts and theory are introduced in different depths based on the various age groups to help them develop a keen understanding of music in each theme.The Staccato! methodology adopts not only the music education philosophies of renowned music educators of Carl Orff, Suzuki, Kodaly, and Dalcroze, it is also built on a well-researched premise that classical music brings overwhelming benefits for young children.

There are 5 key sections in each lesson:
1) Singing/Solfege
Kodály believed that, to be effective, musical learning must begin with singing. Through the use of voice, children develop their musical ear. Children also learn solfege singing, a fundamental aspect of music which is taught in music institutions worldwide.
2) Instrumental
Through use of the toy piano, percussion and other musical instruments, children learn about rhythm, tempo and improvisation. Children also learn about making music and instruments using commonly seen material in our everyday lives.
3) Dancing and movement
With the use of various interesting props, children are encouraged to feel the music and express themselves physically, a key component in the Dalcroze method which involves teaching musical concepts through movement.
4) Music theory
Basic music theory such as recognition of notes, tempo etc is introduced to children which solidify their musical foundation upon which more advanced music training can be developed.
5) Classical music knowledge
The use of classical music pieces throughout the lesson enables children to develop a listening ear and familiarity with classical compositions which in turn helps to cultivate appreciation. Children are introduced to various composers and their compositions relevant to the theme adopted for each semester.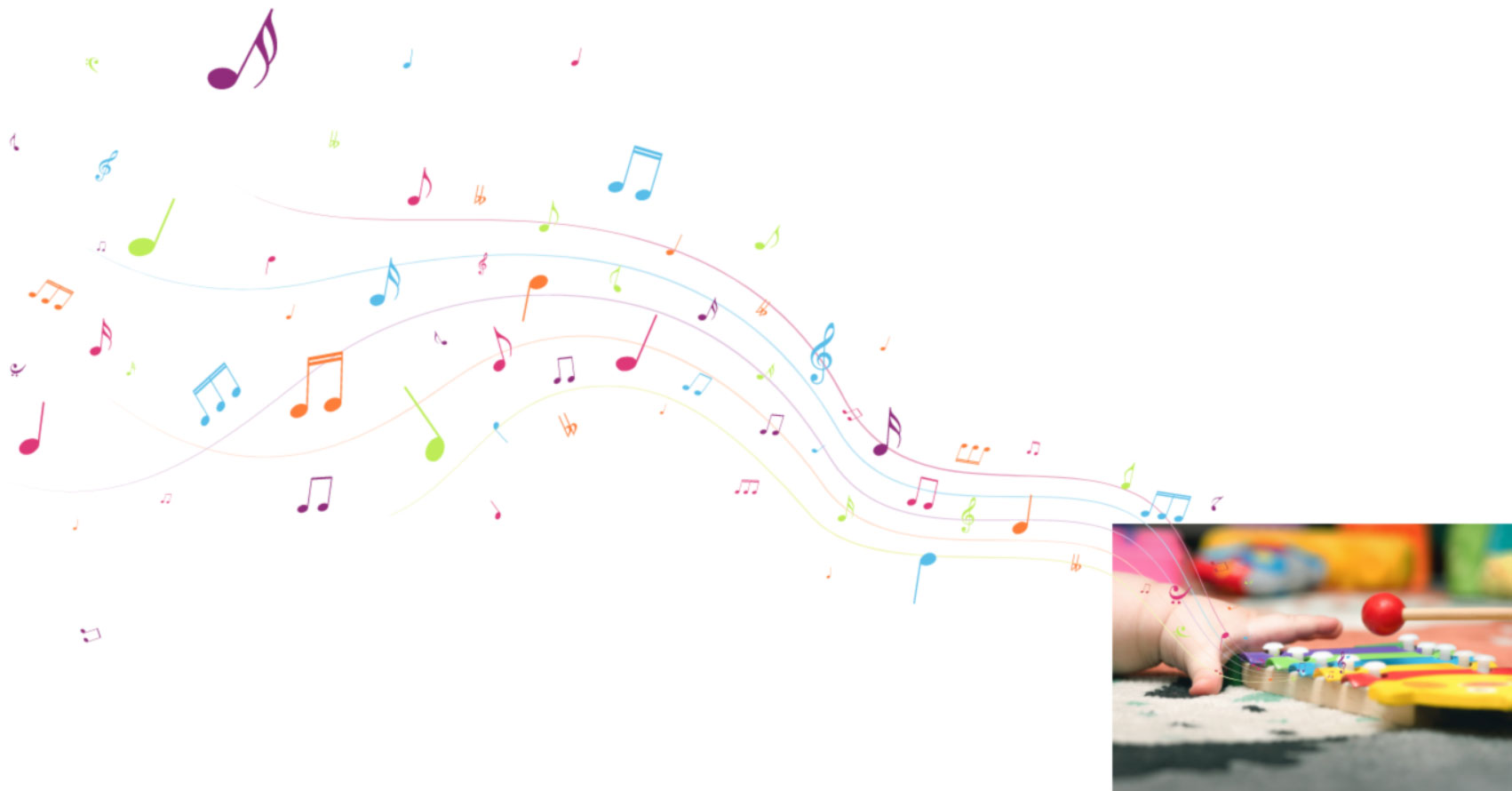 Baby Mozart
Age range: 6 months-1.5 years old
Semester 1: Rhythms and Rhymes I
Semester 2: Rhythms and Rhymes II
Class length: 45 minutes
Number of lessons: 24 lessons per semester
Frequency: Once a week
Description
The Baby Mozart program is a perfect boost for your babies. At this stage, children start to lift their heads, grasp objects, babble, roll, crawl, stand alone and even start to speak mama and dada. At such an early stage, your baby will be introduced to development-promoting activities and music through popular nursery rhymes, and classical music. Based from studies, introducing babies to music helps them to develop and sharpen their memory, perception, and aural skills.
Semester themes:
Children will be exposed with different classical music that makes them healthier, smarter and happier (The Mozart effect) and nursery songs while recognizing the steady beats of music that is linked to cognitive development.
Rhythms and Rhymes I
Rhythms and Rhymes II
Learn different ways to connect with your little angels through music and enjoy your time together. Our approach encourages parent-involvement to strengthen parent-child relationship while fostering children's spatial awareness, language, visual, social and emotional skills. This is the best time to nourish all their senses through our fun music classes and take advantage of the bonding time. Remember, it is never too early to enjoy the wonders of music!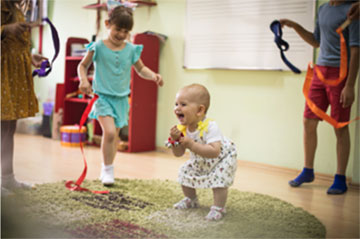 Beethoven Toddler
Age range: 1.5-2.5 years old
Semester 1: Dixieland and Tales I
Semester 2: Dixieland and Tales II
Class length: 45 minutes
Number of lessons: 24 lessons per semester
Frequency: Once a week
Description
The Beethoven Toddlers program is a fun and interactive class that your little ones (and even you!) would enjoy. Children start to walk, run, jump, point to pictures, verbalize and speak 2-word sentences. At this stage, children enjoy role-playing and mimics real-life situation through play.
Our program is designed to help your kids recognize basic rhythm, pulse, tempo, pitch and different world instruments. It offers a creative and unique introduction to classical music with these exciting theme:
Dixieland and Tales I & II:
An exciting activity where kids get to enjoy storytelling, accompanied by classical music to fuel their imagination and involvement through roleplaying. Plus, listen and enjoy to the upbeat remix of classical music by Cuban Brothers and the likes.
This theme will surely facilitate your child's motor and cognitive development. Watch your tot'sconfidence grow, improve their social skills, develop their musical ear and a life-long love of music.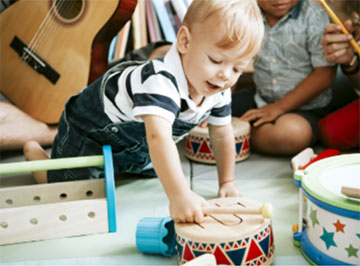 Chopin Preschooler
Age range: 2.5-3.5 years old
Semester 1: Animal Carnival
Semester 2: Dancing with Nature
Class length: 45 minutes
Number of lessons: 24 lessons per semester
Frequency: Once a week
Description
The Chopin Preschooler program is a creative and exciting class designed to your child's growing sense of independence and imagination. Your child will also explore the world ofmusic through introduction to musical terms adapted from music education philosophers like Carl Orff, Kodaly, and Dalcroze. Your kid will be able to recognize basic to complex rhythms, pulse, tempo (speed of music), define articulations and other music terms, and identify different world instruments. This program aims to enhance your child's imagination, cognitive, gross, fine motor and social skills. To top it all up, we have also added some themes that will make them look forward to their next class:
Animal Carnival:
This fun activity is a wonderful way to introduce your kids to classical music. Watch your child identify the sounds of animals imitated by different orchestra instruments and sing along the lyrics together with the music. Expose your kids to a class filled with classical music by Saint-Saens, Rimsky-Korsakov and Rossini.
Dancing with Nature:
Let your kid express classical music through dancing. Who knows, it may be one of your child's hidden talent! This theme will expose your child to catchy and danceable classical pieces like Grieg's Norwegian Dance, Tchaikovsky's Nutcracker, Vivaldi's Four Seasons and a lot more. See their gracefulness and watch them move and express themselves like a pro.

Bach Lab (Group Keyboard)
Age range: 3.5 years old and above
Semester 1: Instruments of the Orchestra*
Semester 2: Genre of Music and Ensemble*
Semester 3: Carl Orff Ensemble*
Semester 4: Carl Orff Ensemble and Suzuki
Class length: 60 minutes
Number of lessons: 24 lessons per semester
Frequency: Once a week
*Semesters are Pre-requisite.
Description
Let your kids interact with other kids by enrolling them to Staccato!'s Bach Lab class. Piano class does not have to be a one-on-one approach. The Bach Lab class allows your kid to enjoy piano lessons in a fun social group setting. Aside from basic music concepts, basic composition, instrument exploration, and basic improvisation, we will equip your child with proper piano techniques which will give them the edge in piano playing. The Bach Lab class is designed to let your kids learn piano, have fun, and make friends at the same time. We will assign a simple music piece every week, getting progressively more challenging over the course of the class. Besides from learning the piano fundamentals, your child will also improve in reading music notation (sight-reading), develop their musical ear (aural training), understand basic music theory and build their confidence by performing with and in-front of their peers.
Instruments of the Orchestra:
Expose your child and be inspired with different tone colours (timbre) of the orchestra instruments. Your child will be able to identify different musical instruments (from different families such as Keyboard, Strings, Woodwind, Brass and Percussion) by the way it looks, the way it sounds, and its exact place in an orchestra setup.
Genre of Music and Ensemble:
Music comes in different groups and even style. Let your child learn, be amaze and have a chance to play in different music ensembles. Aside from the chance of learning with friends, children will learn teamwork, balance, rhythm, timing and performance etiquette. Children will also be able to identify different emotions in their musical pieces that may affect their moodiness, boost their confidence and reduce anxiety.
Carl Orff Ensemble:
Music does not only mean playing piano. This program combines music, movement, speech and drama into lessons which is natural to children. With this approach, allows children to recognize the importance of rhythm and exposure to different range of percussion instruments.
Suzuki Method:
Similar to language, your child can learn music through listening, observation, imitation and constant repetition until your child masters how to play the musical pieces. Children will become more comfortable with their instruments and will learn techniques through popular pieces even before learning to read. Through a group set up, children will also learn to socialize and will have a support system that aims to motivate one from another.
This program is divided into four levels that gauges your child's piano-playing skills. A different level is introduced to your child as he progresses over time and meets the level requirements.
Level 1: Bach Explorers
Level 2: Bach Scouts
Level 3: Bach Detectives
Level 4: Bach Whiz
Let your child increasingly enjoy learning music through our semesters while progressing in their piano and musical skills and at the same time, making friends through Staccato's group classes.